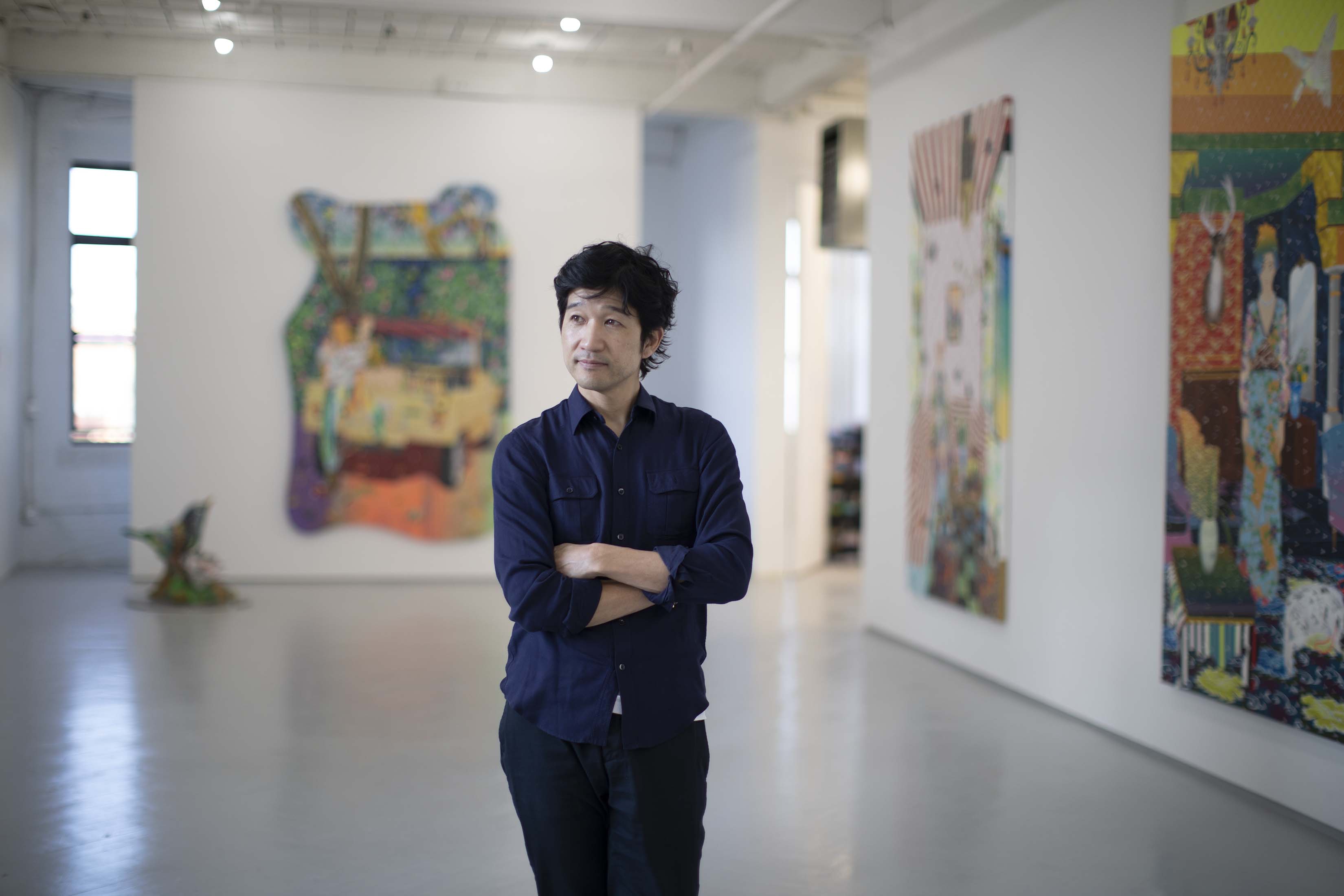 Tomokazu Matsuyama was born in Japan, 1976 and currently lives and works in Brooklyn, New York. He received his MFA in Communications Design from the Pratt Institute, New York.

Though he manages a dynamic, wide ranging, and truly global practice that includes painting, sculpture, and large-scale public works, Matsuyama notably remains dedicated to furthering the most personal and intimate aspects of his aesthetic evolution.

Recent exhibitions include Episodes Far From Home, Almine Rech Gallery, London, UK; Harmless Charm, Sotheby's, Hong Kong; The Best Part About Us, Kavi Gupta Gallery, Chicago, IL, USA; Tomokazu Matsuyama: Accountable Nature, Long Museum West Bund, Shanghai, China, and Long Museum Chongqing; Tomokazu Matsuyama: Palimpsest, Harvard University, Cambridge, MA, USA; Thousand Regards, Katzen Arts Center at American University Museum, Washington, D.C., USA; Tomokazu Matsuyama: Oh Magic Night, Hong Kong Contemporary Art (HOCA) Foundation, Repulse Bay, Hong Kong; Tomokazu Matsuyama: No Place Like Home, Zidoun-Bossuyt Gallery, Luxembourg; Made In 17 Hours, Museum of Contemporary Art Museum, Sydney, Australia; and Edo-Pop: The Graphic Impact of Japanese Prints, Japan Society, New York, NY, USA, among others.

Large-scale public displays of Matsuyama's work can be found all over the world, including a monumental, permanent sculptural installation activating Shinjuku Station East Square, Tokyo, Japan , one of the busiest urban train stations in the world; a sculptural installation at the heart of Ivy Station, a transformative, mixed-use development project in Culver City, CA; a 30m painted mural and two large-scale stainless steel sculptures in Tipstar Dome Chiba, a cutting edge, state-of-the-art cycling arena in Chiba, Japan; Magic City, a 124m x 150m LED billboard animating the facades of neighboring skyscrapers on the riverfront of downtown Chongqing, China; a large-scale, outdoor steel sculpture on the grounds of Meiji Shrine in Tokyo; as well as Thousand Regards/Shape of Color, a monumental mural commissioned by the City of Beverly Hills, CA.

Matsuyama's works are in the permanent collections of Los Angeles County Museum of Art (LACMA), Los Angeles, CA, USA; Asian Art Museum, San Francisco, CA, USA; the Long Museum, Shanghai, China; Powerlong Art Museum, Shanghai, China; Pt. Leo Estate Sculpture Park, Melbourne, Australia; the Royal Family of Dubai; Dean Collection (Swizz Beatz and Alicia Keys), USA; and the institutional collections of Microsoft, Toyota Motor Corporation, Bank of Sharjah, NIKE Japan, and Levis Strauss & Co. Japan.